Princess Charlotte Elisabeth Diana – 4th in line to the UK throne born  2/5/2015 at 8h34 BST London, UK
We have a new a Royal baby- Princess Charlotte Elisabeth Diana Wales, 4th in line to the throne of Great Britain.  Congratulations to her parents and her wee brother.
When I look at the birth chart of a new born I am aware that it is a chart for life. So her chart is like the acorn that contains ALL her life's development in seed form. I also have to acknowledge the ground from which she springs ie the Royal Family, the wealthiest families in Great Britain; so she is a child of privilege, "blue" blood, who will want for nothing, except perhaps privacy and an intimate relationship with her mother. The children of such families are raised largely by a group of nannies who may or may not suit the needs of each particular child in their care, then sent off to boarding school at a tender age, to relieve their parents who lead busy and important lives of their own.
Princess Charlotte really is a chip off the family block. She has Cancer Rising which is her father's Sun and Moon Sign (he was born on a Total Solar Eclipse at the first degrees of Cancer) and her mother's Moon sign (she was born on a Lunar Eclipse) – it was also the Sun sign of Princess Diana, her grandmother. The Princess' older brother, Prince George also has his Sun in Cancer (just – one minute later and it would have been in Leo) and his Moon in Capricorn, another Full Moon  reversing his mother's Full Moon position – although, thankfully perhaps, not an Eclipse. In fact, the chart for the UK has a Full Moon across Cancer/Capricorn as well.
This little Cancer cluster has little in common with the older generation of Royals, who seem to favour the Fixed signs rather than this new watery  Cardinal energy that the late Diana, Princess of Wales  and Princess Kate have brought into the mix. I would suggest that this new generation of line to the throne is a fated group, that was truly kicked off by Princess Diana producing Prince William on a Solar Eclipse. We cannot deny the power of such a configuration in a bloodline. With both parents – Kate and William – being eclipse born, something is going on in the royal collective psyche for the future of the UK.
With her Sun in nature loving Taurus, Princess Charlotte echoes her great-grandmother our present Queen Elisabeth's Taurus Sun and grandfather Prince Charles' Taurus Moon. So she will connect to an earlier generation in some way, with her love of stability, nature, animals and the environment. She has an inner stability and solidity, like the Queen – although unlike the Queen, her Sun in the 11th could set her up to be more interested in the environment, changing climates, etc, as a career rather than spending her time making public appearances that may seem shallow to her.  
The Princess is Venus ruled, with her Sun and Libra Moon both ruled by Venus planet of even temperament, beauty, harmony and love. This little girl will be popular with the public and will be a social success wherever she goes. Venus is in late Gemini in flowing aspect to her Moon – the little princess can mount a real charm offensive when she wishes and the public will eat out of her hand. Her Moon is opposite Uranus which can bring many sudden changes in her family security. Uranus Moon gives  an independent streak and traditionally (citing Charles Carter astrologer) that it also creates writers of non-fiction rather than novels. That could be backed up by her Mercury in Gemini heading towards retrograde motion which will last by Secondary progression from aged 17 through until her late thirties, whereupon she will have a complete change of heart about her life. Interesting.
With her Sun in the 11th House of idealism and Mercury in Gemini opposite Saturn in Sag,  she will be a serious minded child. Her 3 personal planets – Mercury, Venus and Mars – are all placed in the 12th House of seclusion, mysticism and hospitals, which could see her working as a doctor in far flung countries. Her mix of both Earth and Air planets will also indicate a search for empirical ideas rather than airy fairy stuff – a practical idealist, in fact.  Prince George, by contrast, is all water and thus much more fluid and emotional, moody and sensitive, like his grandfather Charles.
I notice her brother George has his Mars and Jupiter on her Ascendant – sibling rivalry, active competition – between them showing there!
A touch of further fated stuff here – her Moon Node or Destiny Point, as I prefer to call it, is on the UK (1801) Ascendant, which means that she will be an important factor in the country's development. Her grandmother Diana had her Sun  on the IC of the 1066 England chart and the MC  (high point) on the UK 1801 chart making her of fundamental importance to the country by producing heirs to the throne. So what will this infant granddaughter of Diana's achieve through her life for the nation and the world?
Click on this thumbnail and you should see the fullscale chart!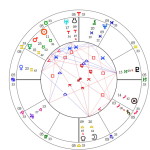 Print or Email